Sunday 8th of January 2023 | Hamilton Amateur Astronomers
Join us this Friday, January 13 for our first members meeting of the new year! Our guest speaker will be John Gauvreau. His topic for the evening will be The Elephant in the Room – The Nature of our Sun and Observing a Star Up Close.
From its fiery heart where all our light and heat originates, to its tenuous outer atmosphere seen during an eclipse, our Sun gives us a remarkable opportunity to study a star up close. While we all strive to see the faintest starlight from distant galaxies, let's spend an evening studying the often overlooked elephant in the room; a star right on our doorstep!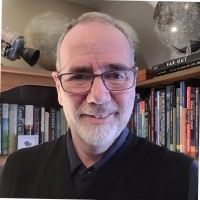 John Gauvreau is a long time member of the HAA, and former Chair(!), where he has particularly enjoyed the outreach and educational programs of the club. John currently teaches full time at Conestoga College but loves a day off when he can look at the sun.
Observing Director Steve Germann will also be there with the January edition of The Sky This Month.
We will also be giving away some door prizes. Don't forget that we gladly accept donations of food or cash for delivery to Hamilton FoodShare. Anything you can spare would be greatly appreciated!

Doors open at 7:00 PM and the meeting begins at 7:30 PM. For those not able to attend in person, we will be livestreaming the meeting on ZOOM for club members and Facebook for all others (as long as the technology cooperates). The meeting will also be posted on our YouTube channel about 48 hours after the meeting.
We hope to see you there!