As noted in the HAA calendar, overnight tonight (April 21 into the early morning of Apr 22) is the Lyrids Meteor Shower.
This is a medium intensity shower with an average of about 15-20 meteors per hour. However these travel at high speeds (over 100,000 km/h) when striking the Earth's atmosphere. This can produce intense but very quick streaks. Some years have produced much higher strike rates. The average magnitude of these meteors are about +2 (similar to some stars in the Big Dipper), but occasionally can produce fireballs which are brighter than Venus and can leave a smokey trail which can last for a few minutes.
The Lyrids (also known as the Alpha Lyrids), which appear to emanate from the constellation Lyra, are remnant dust from comet Thatcher (C/1861 G1). We can see sporadics on any given night (1 or 2 per hour), but their point of origin if traced back along their path, will not be from Lyra. That's how you can differentiate them.
(Speaking of comets, Phil Plait over at the blog "Bad Astronomy" has just recently added a "10 Things You Don't Know About Comets" feature which might interest some of you.)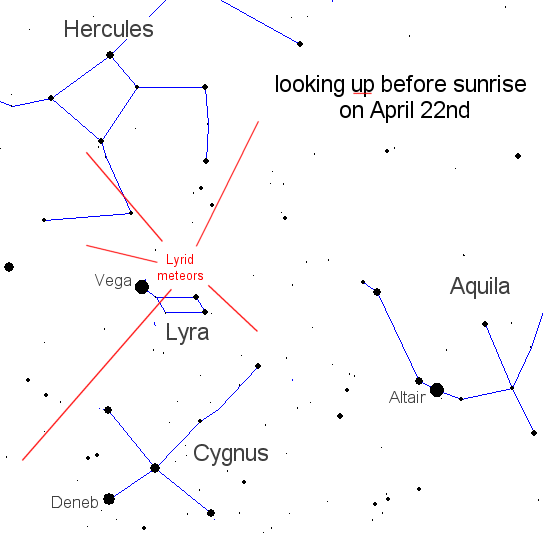 Click this link for a larger version of the map or this link for more info (courtesy of SpaceWeather.com).
If the skies remain clear overnight, the best viewing will be in the early morning several hours before sunrise. If you are a night owl or can get up really early, this meteor shower can be a rewarding show. Like all meteor showers, you will see more from a dark location than from within the city. So perhaps consider a trip out to Binbrook or some other rural area.
It's also a fairly broad shower, which actually runs from about Apr 16 through to 26, but the peak is during this evening. So if you don't see them tonight, you can try over the next couple of nights or early mornings, though the rate will drop off. Sadly we probably won't see any of these on Astronomy Day from the location of McQueston Park due to bright lights and time of the event. But you can be sure we'll be trying.
Good hunting!