Tuesday 31st of March 2015 | John Gauvreau
Unfortunately, I was unable to attend this season's inaugural public viewing session in Grimsby, but I did get my telescope out for some solar and lunar viewing on the weekend. After a long and cold winter, the comparatively mild temperatures and clear skies were like a siren's call, luring me out under the sky.
A week ago I treated myself to a new astro-toy; a Herschel wedge, for white light solar viewing. Both Saturday and Sunday afternoon offered opportunities to test it out, and after comparing different eyepiece and filter combinations, it gave spectacular views that I was very happy with.
Last night I took my scope out to see the Moon and Jupiter (here in east Hamilton there is very little deep sky that is appealing). Below you can see how nice the Moon was. Jupiter was spectacular in the eyepiece. Putting the camera at the prime focus yielded a very, very small orb, and although it is a less than stellar image, it is a reminder of how nice the viewing was last night. With the warm temperatures, reasonable early nights and clear skies, this is a great time of year to get out and see Jupiter and Venus. I look forward to hearing your reports.
The crater Copernicus is a crop of a much wider image, to show how much detail was visible last night.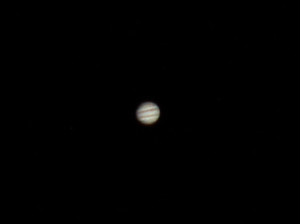 A poor photo of a great planet.